Dr Katherine Bowers has received this award for her on-going public scholarship in the field of Dostoevsky studies, along with her organization of the Flash Teach-In on Ukraine and more.
Dr Aguilar's book, Bilingual Legacies: Father Figures in Self-Writing from Barcelona, (University of Toronto Press), will be published this July, 2022.
Centre for European Studies Affiliate, Dr. Ervin Malakaj, is recipient of the first CENES Outstanding Mentorship Award.
Dr. Katherine Bowers publishes book about Russian realism and the gothic!
CES Faculty Affiliate Markus Hallensleben and Elizabeth Nijdam (co-investigator) have received a SSHRC Connection Grant for a Workshop on Decolonizing and Indigenizing European and Migration Studies through Indigenous Storywork Methodologies. 
CES Advisory Board Member, Dr. Gaoheng Zhang, has received a UBC Killam Faculty Research Fellowship from the Izaak Walton Killam Memorial Fund for Advanced Studies and a Jean Monnet Fellowship based at the Robert Schuman Centre for Advanced Studies at the European University Institute.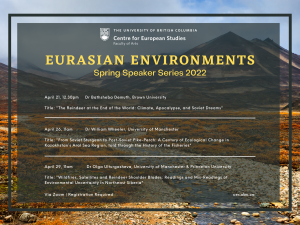 The Spring Speaker Series "Eurasian Environments" has launched! Registration is open!
The Centre for European Studies hosted a wide-ranging, interactive discussion on Ukraine's past, present and persistence on March 7, 2022.
Please visit our dedicated page for further details: European Union: Study Tour 2022 | Centre for European Studies (ubc.ca)
Announcing the CES inaugural Research Colloquia ! Please visit our dedicated page for further details on these exciting upcoming talks. CES Research Colloquium | Centre for European Studies (ubc.ca)