The Centre for European Studies is excited to welcome seven new Affiliate Faculty this month: Elizabeth Nijdam, Isabelle Avakumovic-Pointon, Jeffrey Byrne, Josh Timmermann, Julen Etxabe, Lance Pederson, and Sara Ann Knutson. Our Affiliates come from a range of scholarly backgrounds and departments, including the Department of History; Department of Central, Eastern, and Northern European Studies; […]
Our centre brings together scholars from across the university researching topics that in some fashion relate to European Studies. We host talks, research clusters, and support ongoing research activities by our affiliates. You can find out more about affiliate roles and how to become an affiliate here!
We are excited to share that applications for the CES Undergraduate and Graduate Fellowships are open now! Each fellowship includes: a stipend of $500.00 a shared working station in the UBC Centre for European Studies for up to one month in W2023 T2 (February, March, April) an opportunity to share their research findings with the […]
The UBC Centre for European Studies is excited to announce the lineup for our Fall 2023 Research Colloquia: "The Hypogée des Dunes, Poitiers: Faith and Science in Nineteenth-Century France" by Dr. Bonnie Effros Monday, October 30th @12:30-1:30 pm PT, Buchanan Tower Room 1099. The late nineteenth century saw the growth of a sizable chasm […]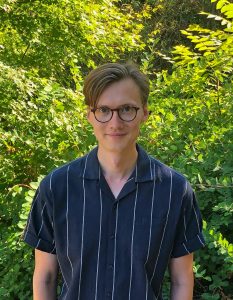 The Centre for European Studies is excited to announce that we have a new Visiting Scholar, Ari Hallgrímur Finnsson! Ari is a PhD Candidate in the Department of History at the University of Toronto, and his research interests are in global and imperial intellectual history, including liberal political philosophy, law, biopolitics, political economy, and social […]
Charli Brown (she/her), the new Work Learn Project Assistant, is the most recent addition to our CES team! Charli spent her undergraduate years studying fairy tales at Washington & Lee University and working at the Shenandoah Literary Magazine in Lexington, Virginia. This year, she's pursuing her M.A. in Children's Literature here at UBC. In her […]
A message from CES's New Director, Ervin Malakaj: It is my distinct honour to take on the role of Director of the Centre for European Studies. The centre has been an intellectual home for me outside of my home department since I started at UBC in 2018. The colloquia, collaborations, and ongoing programming around vital […]
CES will be closed for the month of July 2023. We hope you have a restful Summer! Stay tuned for our welcoming event on Imagine Day, September 5th, 2023!
If you missed one of the Centre for European Studies "Engaging Transylvania" talks, the recordings are now available on cIRcle.
The Centre for European Studies is thrilled to co-sponsor the international workshop "Thinking with Lauren Berlant", May 19-20th, 2023. Details about the event and registration links to the keynotes can be found here.