Please register here to attend this free virtual lecture via Zoom, which will be held online on November 22, 2023 at 11:00am PST.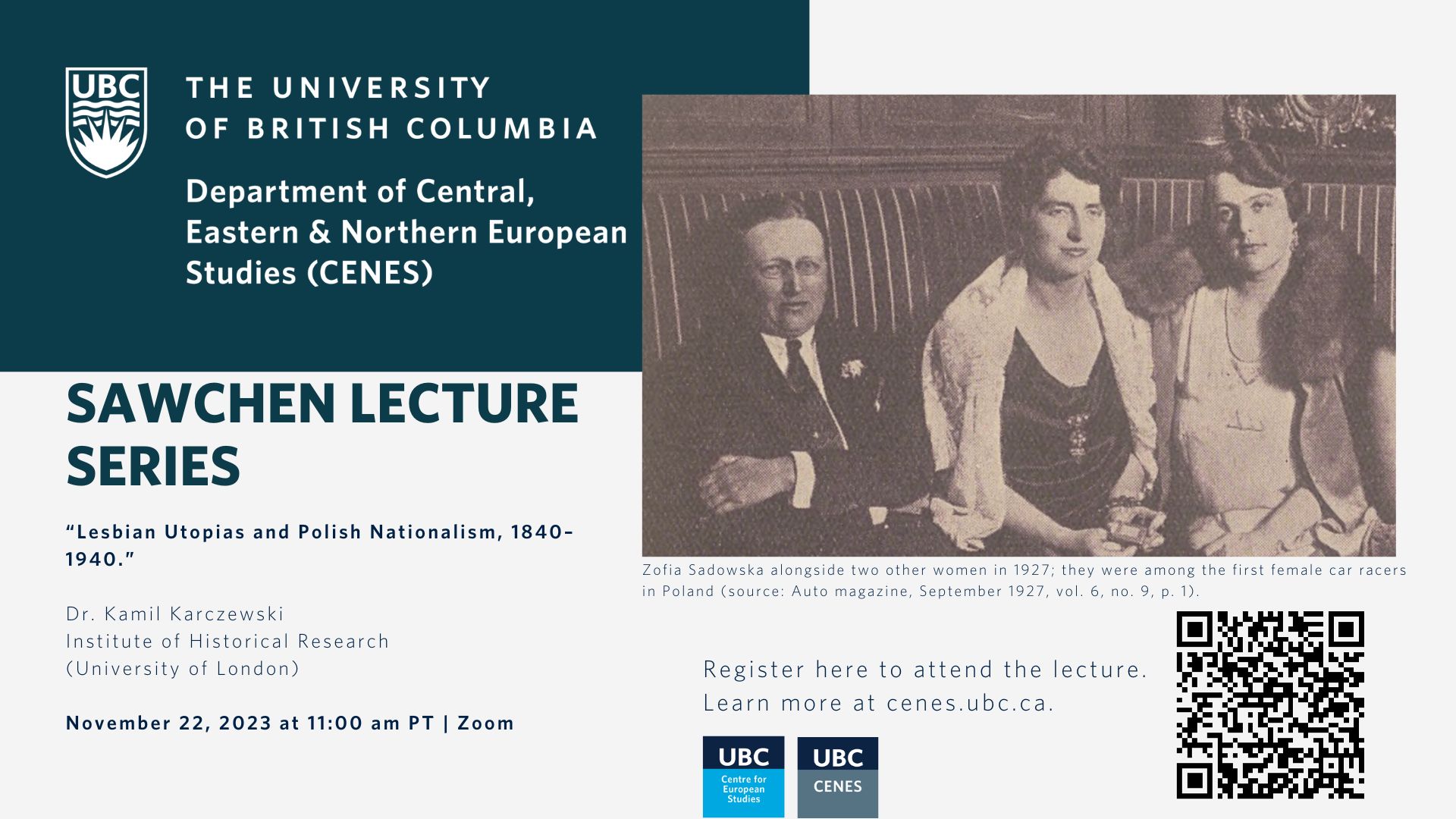 Zofia Sadowska alongside two other women in 1927; they were among the first female car racers in Poland (source: Auto magazine, September 1927, vol. 6, no. 9, p. 1).
"Lesbian Utopias and Polish Nationalism, 1840–1940" by Dr. Kamil Karczewski
In the 1840s, Narcyza Żmichowska, an unmarried female teacher from Warsaw, gathered a group of young, devoted women around her, whom she called 'the Enthusiasts'. Żmichowska encouraged them to strive for economic independence and education. She also assured them that they did not need to rely on men. The Enthusiasts were somewhat peculiar, if not queer—they smoked cigars, engaged in nationalist activism, and believed in a unique form of intimacy between women that Żmichowska dubbed 'in-sistering'. Several decades later, Zofia Sadowska, a female physician from Warsaw, took things a step further. Not only did she wear men's clothing, become a rally driver, and invest in oil drilling, but she also was not afraid to publicly declare that there was nothing humiliating about being a lesbian. This raised some eyebrows among Warsaw socialites, but it did not stop Sadowska from creating a home with another woman. Meanwhile, Maria Rodziewiczówna, a nationalist writer, was less vocal about her lesbian love, but she, too, pursued a lesbian dream. She envisioned it as a small cottage in the middle of a forest, where she moved in with her partner. There, they spent their summer months in seclusion, surrounded by Eastern European nature, wildlife, and an abundance of wild berries. This paper explores the ways in which these three non-normative women carved out pockets of respectability for themselves in a male-dominated world without compromising on love, building various and creative homosocial spaces that I, with just a touch of exaggeration, call utopias.
Bio:
Kamil Karczewski, PhD., is a Past & Present Fellow at the Institute of Historical Research, University of London. His research explores the intersections of queerness, nationalism, and class in the history of interwar Central and Eastern Europe. Karczewski earned his PhD from the European University Institute in Florence. Previously, he was a fellow at the German Historical Institute in Washington, the Herder Institute for Historical Research on East Central Europe in Marburg, and the Leibniz Institute of European History in Mainz.